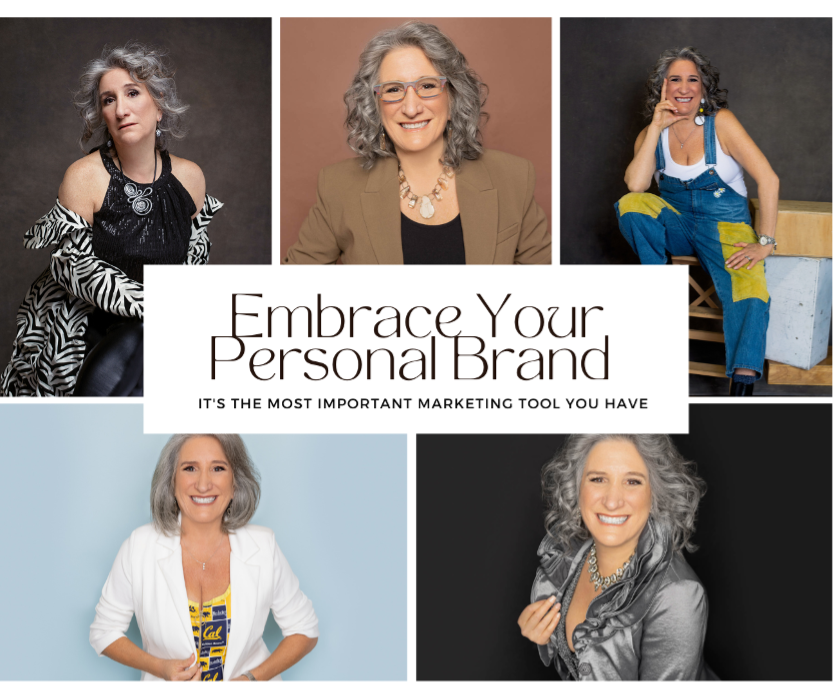 When you hear the word "brand," what comes to mind? Your favorite mobile device? Soft drink? Car? Do you immediately want to "taste the rainbow" or "think different" or "just do it"?* Do you think "big business" and creative marketing?
Why don't you think about individuals? Why don't you think about yourself?
Our personal brand is the most important marketing tool we have. Our brand is more than our resume, more than our skills. It is everything about us – what we believe in, how we present ourselves, the causes we support, the way we see the world.
Especially in this era of social media, virtual networking, and even online dating, our personal brand affects all aspects of our lives – from our professional work to our personal fulfillment.
What does it mean to have a personal brand?
Think about the adjectives you would use to describe yourself. Then, think about the adjectives someone else might use to describe you. What would your best friend say? Your boss? A direct report? Does your view of yourself match what others think about you? Why or why not?
I learned about my personal brand after I left the corporate world – and I wish I had known about it before. After years doing marketing for companies and products, I realized I never really learned how to market myself. I was good at what I did, and I got ahead in my career, but I never loved talking about my work. I never celebrated my personal wins.
So, when I found joy in a second career as a small business owner, I didn't know how to market myself any differently. I started by using the same corporate techniques I had been using for decades. I left "me" out of my marketing. I had a "business voice" that was different from my actual voice. I was afraid to integrate my personal values into my business message.
Then I realized that my voice, my values, my self are the most important assets I bring to the table – and I started investing in them. I reached out to experts about how to write more personal, intimate social posts (still working on that!). I learned to celebrate my wins! I built my own website.
And, most recently, I invested in a full branding photo session to support my newfound confidence.
Getting in front of the lens
As a portrait photographer, I have always been more comfortable behind the camera, not in front of it. I love creating images with clients that help them to see themselves in a different light … to see themselves as others see them. And yet, I had never given myself that same gift.
Until recently.
I reached out to a photography mentor I have followed for years and signed up for a portrait session with her. At my session, I received the same sort of royal treatment that I offer my own clients – brand exploration, wardrobe guidance, hair & makeup, and a fully guided portrait session. I felt like a queen – and it showed in my images!
I came out of that experience with images that support my complete brand – from my photography business to my silly, casual side to my university pride (Go Bears!). I have images for LinkedIn, Facebook, Instagram, my website, and more! And, not only that, but when I posted the photos to my networks, they got crazy high engagement. I realized that clients and friends liked seeing ME – not just my work.
I learned so much from that session – about myself, my business, and my goals – that I signed up for a second opportunity for more photos.
I know … that's A LOT of images. But let me assure you, it's not because I love seeing photos of myself. I didn't suddenly decide that what the world needs more than anything is more photos of ME! I am not even close to being an "Influencer." I can't take a good selfie to save my life.
This isn't about vanity. It's about business. It's about self-value. It's about the personal brand I want to put out in the world.
Hi. My name is Suszi McFadden, and I am an award-winning, internationally published portrait photographer located here in Sunnyvale. I like big clunky jewelry and funky clothes. I love my silver hair. I don't normally wear makeup, but when I do, I want lashes that you can see from space. I am a huge musical theatre geek and lover of fiction. I need to work out more and take off the Covid pounds. I still bite my nails. I believe that Black Lives Matter, women's rights are human rights, and drag queens make the world a better place. I am beautiful and strong. I am good at what I do.
My business reflects these values by offering a safe, inclusive space for clients to be 100% themselves. Together we create images that can change the way you see yourself – so that you can go out and show the world what you're made of.
I am embracing my personal brand – and I'd love to help you embrace yours!
Interested in investing in your own personal brand? I'm here when you're ready.
suz@suzmcfaddenphoto.com
suzmcfaddenphoto.com
IG: @suzmcfaddenphoto_headshots
IG: @suzmcfaddenphoto
FB: @suzmcfaddenphoto
* Taste the rainbow is a registered trademark of Wm. Wrigley Jr. Company. Think different is a registered trademark of Apple Inc.  Just Do It is a registered trademark of Nike, Inc.