Chamber Spotlight: Black Diamond Paving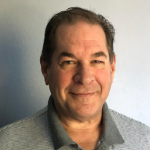 Meet Bruce Pressman: Sales Manager | Chamber Board Member
What services or products does your company offer? 
Black Diamond Landscape provides hardscape and landscape outdoor home improvement needs. I joined the company in 2012.  We serve clients anywhere between Sacramento and Carmel and we specialize in pavers, retaining walls, barbecue islands, fire pits, pergolas, synthetic waterless lawns.
How many years have you been in business?
We have been in business since 2004.  In 2011, a local San Jose family bought the company so we are locally owned and operated.
Why did you join the Chamber?
I enjoy getting out and meeting people and helping them with the services or products that they need.  I joined the Chamber in 2012 to build my network.  I was working with the  Maple Tree Inn at that time and volunteered as an Ambassador and later, a Board Member.  The Chamber has been a really valuable tool for me and I'm looking forward to getting back to in-person networking events as soon as we are able.
What is something people may not know about your business?
We have two college scholarships for juniors and seniors whether they are from our customer base or our employees. Anyone, any age may apply them. They are named after 2 special previous employees.
What is your company website address:
Blackdiamondlandscape.com